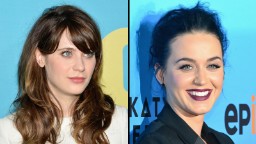 Perry lanzó un video de su canción "Not the End of the World" el lunes en el que es interpretada por Zooey Deschanel. Las dos mujeres se han confundido a menudo entre sí a lo largo de los años.
"¡No, no, no! Lo siento. Malentendido. Soy Zooey", dice en el video después de ser secuestrada por extraterrestres.
Perry compartió en Instagram que filmaron el video hace cuatro meses. yo
"Tuve la idea de que Zooey intervendría mientras yo tomaba un [maternity] vete … durante tanto tiempo hemos tenido esta relación divertida … la gente piensa que nos parecemos ", dijo Perry.
Deschanel agregó: "He tenido conversaciones completas con personas que pensaban que yo era usted".
Para más noticias diarias, visite Spanishnews.us